Sketching materials
What sketchbook/paper are you using?
---
Over the years I used quite a few different types of sketchbooks, here's the ones I loved and used the most: - Moleskine Sketchbook, A5 - It has the best paper for multiliner and ink sketching, although ink can be a bit slow to dry. Being quite thick, it tolerates watercolor if applied with modest amount of water, for which a waterbrush is ideal. - Leuchtturm 1917 Sketchbook, A5 - Beautiful thick white paper, ideal for quick sketching. Even though it's not so good with watercolors, the colour stays bright when dries. - Now I buy blocks of Khadi paper from a store in the UK (Khadi.com) and bring it to local Singaporean book binders.
---
What pens are you using?
---
I've been using Lamy pens for a long time now, my favourite pen is Lamy Safari or Lamy AlStar, medium nib. Both are basically the same, the difference is in the casing, one is plastic, another one is metal. Here's my current ones, all M nib.
---
---
Drawing process
I really want to draw but don't know how to get started!
---
I can't put it better then oulturd.com did. Just do it. Don't think that reading a ton of books before you even start will help you much. Practice on the other hand, will help. A lot of it, regularly! Yes, there's no miracles here. People who are good at something are not good just because they are so talended. They are good because they practice their skill more often than an average person does. There's no other way, for talent on it's own doesn't make you good. Then after you've started and bounced into your first problems, you can look for the answers in books, and practice it again. If you are shy to draw on your own, find a buddy or a group of people to draw together. In every biggish city there's a chapter of the Urban Sketchers group which goes on sketchcrawls quite regularly. Look for it on their website. If there's none, why not create one?
---
How long does it take you co complete a drawing?
---
That's the most difficult question I've received so far. The answer is - I don't count. It really depends on how much time I have on my hands, which is always little. I mean, I can draw fast. I can complete the same sketch in 10 minutes or in 1 hour, if I want to enjoy slow process. What I don't do is I don't sit down to 'sketch' for 3 hours, bringing with me 10 kilos of materials. "Sketch" is not just a fancy hipster word, a Sketch is a definition of a quick free hand drawing and I rarely take more than 30-40 minutes to finish it. Yet, again, one can't "finish" a sketch. One can only stop drawing it and move on, leaving a different level of detail depending on the time spent and one's speed of drawing.
---
Do you work on location or from reference photos?
---
If I sketch for myself in my sketchbook, I draw on location. Only if a trip is very intence (most of my work trips are), I can doodle on location and then finish the sketch the same day later, when I have time and still remember how it looked and, most importantly, felt like. If I draw for a project, it depends on a project itself. Some of them were rather reportage-y, meaning that drawing on site is the whole point of doing it, some of them are illustrations rather than sketches, and then I refer to my photos or to my older sketches.
---
What makes you choose your materials you use?
---
Their weight :) I travel with a very limited set of materials that I've narrowed down after years of selective process. I carry them with me every day, everywhere. So my choice of materials rarely depends on a subject, but heavily depends on paper I draw on. Over time I was slightly changing the basic tool set to adopt to paper in a current favourite sketchbook.
---
Do you use any techniques to convey the place you are drawing?
---
Not really. My stile is pretty fixed, only the colours change depending on a place. Although I still carry the same small 12-colours pallete with me.
---
Do you plan the image in advance? Do you use pencil to do it?
---
I don't plan my spreads, and I don't use a pencil for pre-drawing. I find it a killer to all possible liveliness in a sketch. Intuition and eye-hand coordination is best developped without overthinking. It's sketching after all, not illustration. It's not meant to be perfect.
---
Watercolors first then a pen? Or a pen, then watercolors?
---
Mostly, pen drawing goes first, then watercolor, if I have time. But I'm not really fixating on a particular way. This one is just my favourine. Here there are others which I also use with non-waterproof pens: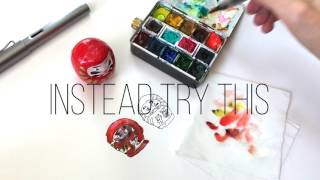 ---
---
About me
Is sketching what you do for a living?
---
No it isn't. I'm a full time Senior Interior Designer in a company that designs and builds corporate offices. Meaning, most of my time I spend creating cool work spaces for big companies all over South East Asia. Although it doesn't mean sketching can't be a paid job from time to time :-P You can see some of my favourite projects on the PROJECTS page on this website.
---
How did you begin drawing?
---
Any artist will tell you that they draw since they were kids. Indeed, we all do. The thing is, some people stop, some don't. As my starting point, I count 2013, when I studied in University on the arts, London. By that time I was already interested in Urban sketching and had made first feeble attempts to sketch on location. So I showed my scribbles to my professor, Jenny... to be continued
---
---